"Calmfidence® is the steady, quiet, inner thread of self-reliance and self-knowledge that holds you together when the outside world is in a whirl."
Now offering Virtual Sessions for Public Speaking Training & Media Training Communicate with Calmfidence®
We're here to help you Communicate with Calmfidence® whether your goal is to shine in the spotlight on broadcast & corporate media,  as an expert or influencer,  on-stage, public speaking, or your next big interview. Maybe you just want to confidently speak up during that meeting at work, school, or community gathering. We'll help you build that inner calm confidence from the inside out.
Know yourself... trust yourself.... you've got this.
Download Your Free Copy: 15 Things People with Calmfidence® Do Differently.
Health and Wellness News Anchor & Host
Patricia Stark has over 15 years experience as a Health & Wellness Anchor, Medical News Correspondent, Radio Host & Interviewer. Patricia works with numerous health and medical clients moderating live satellite and virtual national & international educational programming, events, meetings and speaker training for Pharmaceutical, Medical Device, and Science & Technology clients.
Recent topics & events include: International Myeloma Foundation, ADHD, immunodeficiency treatments, Hunters Syndrome, laser vision correction, dermatology, diabetes, hypocholesterolemia, oncology, & Hemophilia, Cord Blood Virtual Connect International Congress of the Cord Blood Association during two live 8 hour days.
Patricia serves as an on-air consumer health advocate / medical correspondent for media tours for many health & medical corporate clients. Recent tours include "Managing Diabetes" featuring tech products for kids and adults, and "The Cold Hard Truth" for Cold & Flu season. Other recent work includes serving as Host of Dear Doctor TV, and Anchor / Interviewer for medial news and information programming for MMC Studios where she served as Producer/Writer & Anchor of a special live international broadcast event for the Armenian Department of Health focusing on wellness for children & teens. She coordinated & interviewed members of the NJ Department of Health, NJ Department of Education, Armenia Department of Education & Department of Health, & St Joseph's Children's Hospital.
Keynote Speaking & On-Camera
As a keynote speaker, media trainer, author and broadcaster, Patricia is available for live and on-screen talent work in broadcasting and hosting, commercials, corporate media, voice-over, and spokesperson work as well as serving as a motivating keynote speaker and moderator. Satellite Media Tours, Conference Panelist, TV Guest Expert appearances and speech topics include Calmfidence®, Body Language, Fear of Public Speaking, Communication Skills, Women's Leadership, and Stress & Anxiety Busters.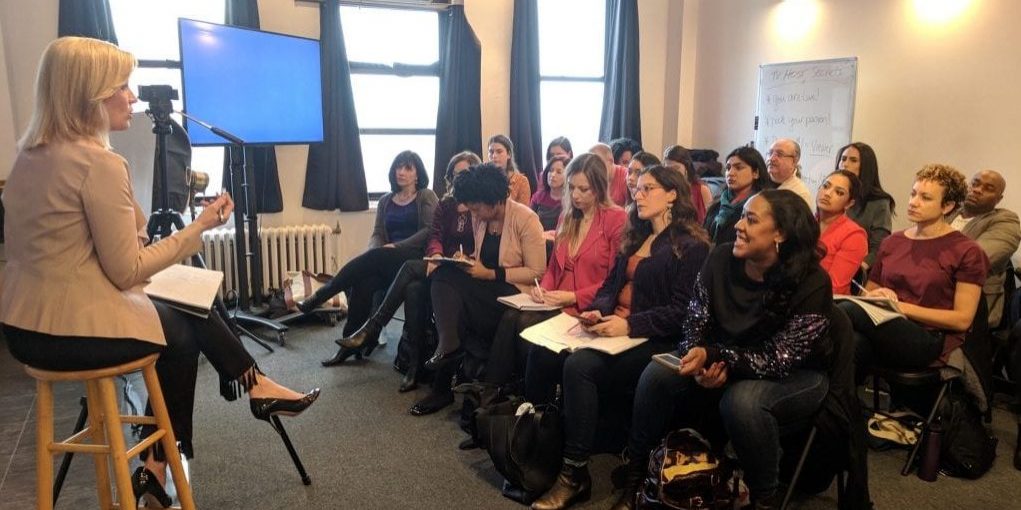 Workshops & Media Training
Patricia Stark Communications specializes in preparing on-air guest experts for appearances on television, radio, and the web as well as print media. She is a media trainer for on-camera talent for TV Hosting, Digital Hosts & Influencers, Corporate Media Productions, and Teleprompter (Including Presidential Teleprompters) Ear Prompter, Public speaking & presentation training for executives, professionals, and those with speaking fears. View training classes, and register for events and 1-1 or group training at our location or yours.
Calmfidence® Tips, Tricks, and Resources
Gain valuable tips for daily Calmfidence® and learn about keynote speaking, coaching, media training, and events.
Calmfidence® Tips, Tricks, and Resources
Gain valuable tips for daily Calmfidence® and learn about keynote speaking, coaching, media training, and events.
Ways To Engage Your Calmfidence®️   

Ways To Engage Your Calmfidence®️
Increase your Calmfidence® by writing it down! When you're overwhelmed by stress, worry, or nervous energy it's hard to think straight; which can make you procrastinate. Making a list can get you back to feeling calm, cool, and collected. When you feel proactive and organized you will harness calm confidence to do what you have to do.
Just like listening to your favorite music to get you in a good mood, find something hysterical to do, read or watch, right before a stressful situation or during moments of nerves and anxiety.  This will give you the distraction you need to take the edge off so you can lighten up with Calmfidence® to deal with what's in front of you.