Speaker & On-Camera Talent
Patricia has had roles on national broadcast news, television, and movies. Her 20 plus years of experience in front of the camera has afforded her many opportunities to connect with audiences and communicate effectively. To book Patricia for your next event, contact us here.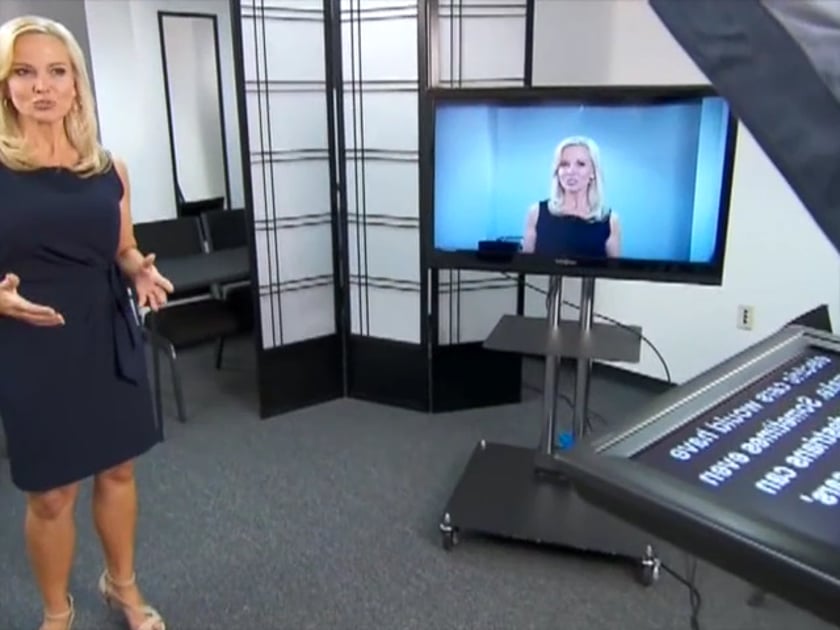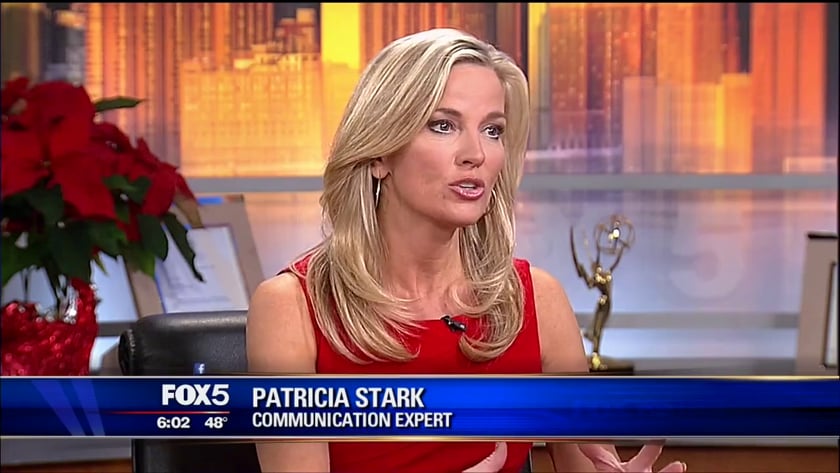 Virtual & In-Person Keynotes, Seminars, Workshops, Lunch & Learn Topics Include:
Calmfidence: How to Trust Yourself, Tame Your Inner Critic and Shine in Any Spotlight. Based on Patricia's upcoming book of the same title
Communicating with Calmfidence®
Lights, Camera, Virtual Calmfidence® - Are You Ready for Your Close-Up?
Lights, Camera, Calmfidence® Media Training for Performers, TV Guest Experts, Broadcasters and Hosts
Public Speaking Calmfidence®
Public Speaking Calmfidence® for Teens
Interview Calmfidence® - Job Interview & Media Interview Skills
Body Language Calmfidence®
Emotional Intelligence Calmfidence®
Resilient Calmfidence® - Handling Set-backs with Grit, Passion, Persistence and Purpose
Self-Care Calmfidence®
Women's Leadership Calmfidence®
Everyday Calmfidence® - Positive Thinking for Positive Living
Natural Calmfidence® - Natural Remedies & Exercises to Combat Stress and Anxiety
Calmfidence® Boosters & Calmfidence® Killers
Courageous Calmfidence® Reaching Your Goals
The Voice of Calmfidence® Finding Your Dynamic Voice Inside & Out
Sticky Situation Calmfidence® Handling Difficult People & Difficult Situations
Improve, Reinvent, Motivate with Calmfidence®- Putting Your Best Foot Forward Back on the Job Market
Camera Ready Calmfidence® Insider Tips from TV Makeup Artists & Wardrobe Experts
Calmfidence® for Teens: Self-Esteem & Self-Care
Calmfidence® for Kids –Communication & Public Speaking Skills
Contact patricia@patriciastark.com for more information
On-Air Guest Expert / Commentator
Patricia Stark's on-air experience includes Anchoring live national breaking news and news updates for Fox, anchoring live international news for the US Bureau of the Turkish News Network Ebru, 10pm Anchor & General Assignment Reporter for News 12 Connecticut, and as medical news anchor for MDTV, HealthiNation, Inception Digital, & Prevention.
During her two years as a national Anchor highlights include Anchoring 5 hours live breaking news continuous coverage of the Turkey Coup Attempt, 3 hours live continuous coverage of the Nice Paris Truck Terror Attack, 3 hours live continuous coverage of the Dallas police shootings and Continuous live coverage of the Egypt Air crash. Breaking live coverage of the deaths of Mario Cuomo & Fidel Castro. Patricia also served as frequent fill-in host for the morning show. Patricia anchored weekly ClearVision broadcasts for Airports/Airlines updates for affiliates throughout the U.S.
Patricia Served as Midday Anchor for Ebru News daily Live half hour newscast covering world news for two years. Fill in Host for "Ebru Today" Morning Show & "Weekly Report".
Health & medical news include serving as Anchor and Interviewer for over 500 episodes of MDTV Medical News Now a health & wellness news and interview program, medical correspondent for HealthiNation.com, wellness host for Prevention Magazine News, MedTalk on NY1, and Health & Home Report video news releases.
Patricia worked with News 12 Networks & Cablevision in a variety of positions including serving as 10pm Anchor and General Assignment Reporter for News 12 Connecticut as well as
Fill-in Anchor for the 5pm Newscast. As host of the weekly political interview program Meet the Leaders for Cablevision Rockland/Hudson Valley for 2 years. Host of the monthly shows Neighborhood Journal live call in show Cable A-Z for 5 years for Cablevision of New Jersey. Patricia was also a Producer & Writer for Cablevision of NJ for 5 years working on Local Origination programming writing and producing nightly entertainment news & information programming.
Public Broadcasting experience includes Anchoring the business news programs "New Jersey Works" on NJN & Connecticut WorkNet on CPTV Connecticut Public Television.
Patricia started her career during college as an Intern for News Channel 8, in Rockland County, NY where she was hired full time after graduation as a Reporter / Producer to research, write, shoot, and edit local stories for "Eye on Rockland" news magazine, produce/write the Community Bulletin Board, direct "Clarkstown Today" Political Talk Show.
Patricia received her BA in Communications/Journalism from St. Thomas Aquinas College and additional Anchor/Reporter training from the Television News Center, Washington, D.C.
She has  been a guest expert on "Ten Years Younger" on TLC, "Movie & a  Makeover" on TBS, "Good Morning Texas", "The Daily Buzz", &  "ABC's View from the Bay".  Patricia co-hosted "Paycheck Showdown"  on TLC coaching people to successfully position themselves to ask for and  get a raise at work.  She has hundreds of on-air interviews under her belt with  doctors, politicians, educators, corporate executives, newsmakers &  Celebrity interviews with Helen Hayes, Carnie Wilson, Andrew Dice  Clay, Linda Blair, Robbin Quivers, Jackie Martling, Donna Karan &  Tommy Hilfiger.
Click here to view some of Patricia's on air-experience. 
 Other On-Air Experience Includes:
Host / Anchor:
"Education Showcase" an award winning monthly interview program taped at CNBC studios and sponsored in part by Discovery Networks airing in over 33 million households. (10 Years)
"Better Business News Journal"  Sinclair Broadcasting – 6 Years, Business News
"Macy's Monthly News Magazine" – Host monthly internal national retail news program for Macy's Corporate Network -5 years to Present
"Nickelodeon Multitasking Mom" – Host 30 episodes of comedic "How to" segments for Nickelodeon Web Program
"The Movie Loft" a monthly countdown show highlighting Pay-Per-View programming airing in over 400 cable systems throughout the U.S. and Canada. (9 Years)
"New Jersey Works" on NJN, a career news program created by The Employment Channel and sponsored by the NJ Department of Labor, & "Connecticut Worknet" on CPTV. ( 2 Years)
"Dinner & A Flick" – interviewing chefs from the Culinary Institute of Connecticut- WB Network -Recipe segments within sponsored movies.
Other projects include "Health & Lifestyle Tips" spots for Prevention Magazie, hosting "Food Bites" segments on the Food Network, segment host for the in-hospital network The Newborn Channel and several years hosting the  Health & Home Report, Medtalk, Focus On Health, Entertainment News & Views, and Neighborhood Journal.
On-Air Guest Expert Topics include:
Communication Skills
Media Presentation
Fear of Public Speaking
Stage Fright
Communications Skills for Women
Public Speaking Skills for Kids & Teens
Interview Skills
Image & Branding
Calmfidence® Building Techniques
Email & Voice Mail Communication Skills
Body Language
Voice Tips
Click here to view some of Patricia's on air-experience. 
Patricia has over 500 televised interviews under her belt with physicians, politicians, educators, corporate executives, news makers & celebrities. Her specialty is conducting a conversational interview asking the questions viewers most want answered.
In addition to her news and hosted programming television interviews, over 1000 corporations in a diverse list of industries have relied on Patricia to make their corporate media productions reflect the quality of interviews they would expect to see on national broadcast networks.  It's not just Q&A. Patricia takes the time to know each topic and guest inside and out.